Our Community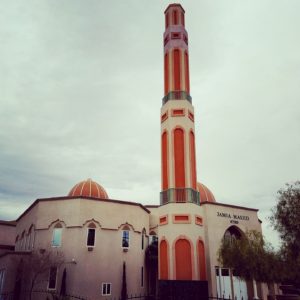 Islamic Society of Nevada founded in 1975 by a handful students has its roots in the Muslim Student Association. In 1984, some local residents established the Islamic Society of Nevada and in 1986 an apartment duplex was donated to the Society by a local doctor for prayer purposes. In 1993, the first phase of the construction of the mosque began and the first Jumma prayers began on the last Friday of Ramadan the same year in the mosque. In 1995, a school building was added to the mosque. The school attracted some 150 students by the end of 1996. Donated by the Shaikh Zahid family, the school consists of nine classrooms, a library, two bathrooms, a reception area and a social hall with a seating capacity of 500 people as well as a commercial kitchen.
In 2003 the mosque further expanded and added a mezzanine floor with facilities for women. The mosque can now accommodate over 1000 people. The Eid prayers generally attract over 2000 people from all over Nevada. During the national crisis after 9/11, the Society played a prominent role in organizing several lectures on Islam and also had an anti-terror campaign. ISON organized the First Quran conference in 2003 attended by over 300 people. The conference was attended by 11 top Muslim scholars from the across the nation. The mosque regularly organizes educational seminars for Muslims and non-Muslims and is part of  Las Vegas community. Interfaith dialogue is one of the top priorities of the mosque.
Las Vegas Muslim community has been growing exponentially and Jama'a Masjid remains the center of this vibrant community. We have two packed Eid Salah's every eid, Iftars in Ramadan exceed 500 people on most nights.